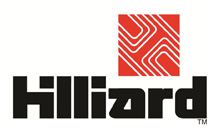 Hilliard's Dry Seal Gas Integral Duplex Filters simplify piping and operation of the duplex filter arrangement. Duplex housings incorporate valves and filters into one assembly. HILCO gaseous fuel filters are available in simplex design and in duplex arrangements for continuous operation.






Hilco Industrial Cartridges
|  
Download General Product Brochure


PL Pleated Paper Cartridges
Microgard™ cartridges provide reliable, long-life contamination control. These efficient filter cartridges feature three filtration layers: outer cellulose-media layer for coarse filtration, an intermediate glass-media for microfiltration, and an inner cellulose-media layer for added support.

Safegard™ single-layer pleated paper cartridges are economical for use in applications requiring general filtration. Disposable cartridges feature molded urethane ends on various sizes. Plated metal end caps are also available with controlled radius pleats to maximize useable filtration area.

Applications: Refrigeration compressors (lube and coolant), gas turbines, centrifugal lubricated couplings, high-pressure fluid filtration, and test stands.

---
PH Pleated Synthetic Cartridges
These durable cartridges stand up to continued use without softening and deterioration as a result of exposure to water. The key is an advanced synthetic media that provides maximum filtration with minimum pressure drop.

Applications: Engine and turbine lube, compressor lube and seal oil, cooling water, process water, and chemicals.
---
PD Hilsorb Cartridges
Hilsorb Dryer Cartridges quickly and effectively remove solid and water contaminants from hydraulic, lube and insulating oils. The PD cartridge is made with a patented four-ply construction and is available in two efficiency ratings.

Applications: Insulating oils, hydraulic oils, lube, and fuel oils.
---
HP Synthetic High Pressure Cartridges
High-pressure hydraulic cartridges are engineered for 2000 PSI pressure. The ability to withstand high pressure permits placement in the high-pressure circuit to protect sensitive hydraulic components. Contains micro-glass filter media between protective screens.

Applications: High-pressure hydraulic oil systems.




---
O-ring Sealed 718/736 Cartridges
These cartridges feature a high-capacity deep pleat structure with an o-ring seal design. The o-ring design eliminates potential by-pass leakage. Microglass filter media is sandwiched between two protective layers of Nylon media, then supported with an inner and outer layer of epoxy-coated steel screen.

Applications: Lube, seal, or hydraulic oils used in turbines, engines, and compressors, as well as water and water-based fluids.



---
Adsorbent HT Cartridges
Hilite™ Fullers' Earth Cartridges feature a high-grade calcined fullers' earth media which is superior because of its greater water resistance. They provide a combination of neutralization and adsorption to remove acids, gums and other oxidation products to restore TAN and color.

Applications: Ideal for acid reduction for petroleum-based transformer and turbine lube oils, as well as reclaiming solvents, mineral oils, insulating oils, and heat transfer fluids.



---
Adsorbent AT Cartridges
Hilite™ Activated Alumina Cartridges feature a special activated alumina media that will minimize the formation of precipitates or gels when used with phosphate-ester fluids.

Applications: Used for the adsorption of acids and other oxidation products from synthetic fluids and petroleum oil. Also appropriate for use with semiconductor vacuum pump fluids, transformer oils, and diffusion pumps.



---
Adsorbent ST Cartridges
Selexsorb GT is a patented adsorbent specifically designed for use with Fyrquel gas turbine lube and hydraulic control fluids. These cartridges maintain the original quality of fluids for prolonged periods, reducing the need for fluid changeouts and increasing equipment life.

Applications: For use in steam turbine electro-hydraulic control and gas turbine lube applications.



---
Adsorbent ET Cartridges
Hilite-E Ion Exchange Cartridge line is based on the existing filled cartridges. Instead of an activated adsorbent, the cartridge canister is filled with a dust-free ion exchange resin specifically selected for acid reduction. Life between changeouts can be many times greater than activated adsorbents.

Applications: Phosphate ester lube and hydraulic oil, phosphate ester lube and hydraulic oil, compressor lube oil, and transformer insulating oil.



---
Coalescer HC 628-01-CSP Cartridge
| | | |
| --- | --- | --- |
| | | Originally developed for the U.S. Air Force for refueling B-1 bombers, the coalescer is capable of reducing water in fuel from 1h% or 5000 ppm to under 10 ppm at 71 GPM per cartridge with inhibited jet fuel. This cartridge also works in No. 2 diesel at a flow rate of 35 GPM and on light oils up to ISO 32 in viscosity, flowing at 4 GPM per cartridge. |
---
Separator HS 611-200-CSP Cartridge
| | | |
| --- | --- | --- |
| | | The separator is a hydrophobic screen element to be used in series downstream from the coalescer. Its function is to prevent coalesced water drops from being swept out of the vessel with the clean fuel before they drop into the sump. |
---
Pleated Screen
The pleated strainer basket contains 3.7 times the area of a plain, cylindrical basket. Features inside-out flow and can easily be cleaned by hosing off in a part washing tank, or with steam or a high-pressure water jet (car wash type).

Applications: Recommended for high solids applications. Typical applications include very dirty lube oils, heavy fuels, fuels with catalyst fines, machine tool coolants and cooling or process water.
---
Strainer Baskets
| | | |
| --- | --- | --- |
| | | For use in bag filter housing. They are useful as pre-filters for the removal of particulates of 75 to 100 micrometers and larger. |
---
Pleated Cartridges for Bag Filter Vessels
Hilco's high-performance line of pleated bag filter cartridges are intended to increase the filtration efficiency of existing bag filter housings, while reducing the associated costs of frequent bag change-outs.

Applications: Synthetic filter media facilitates usage in a variety of fluid applications.
---
Stacked Disc Cartridges
Saflow™ (DS) and Saflow™ D (DD) Cartridges withstand cold starts and high pressure differentials. These specially designed stacked disc cartridges provide protection at high pressure differentials brought on by cold starts and high viscosities. The stacked cellulose paper discs with labyrinth oil channels also provide depth filtration and high dirt-holding capacity.

Applications: Diesel gas engine lubes, quench oils, EDM coolants, lube oils, and hydraulic oils.